La Peña
**We are excited to announce the return of La Peña on Friday Nights!**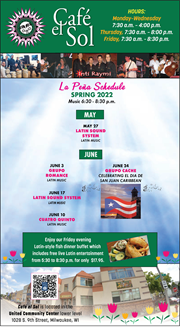 In addition to exposing people to the cuisine of the Latino community, Café el Sol also entertains its patrons with traditional Latin music by bringing in local and regional musicians to perform a variety of Latin music on Friday evenings from 6:30 to 8:30 p.m.
Peñas originated long ago in Spain, when gypsies made their homes in caves in the mountains among the peñas, or large rocks. At night, the gypsies would gather around bonfires to share stories through spoken word, music, and dance.
Café el Sol has recreated this tradition by adding entertainment to its Friday night fish dinner buffet. Music is kept subdued so customers may dine and chat, but many choose to get up and dance.
In the Milwaukee Journal Sentinel's annual reader poll of the best area fish fries, Café el Sol's Friday night fish dinner buffet was voted among the "Best Ethnic Adaptation" of a fish fry in the Milwaukee area, and our unique fish fry was featured in a March 2015 segment on Fox 6's Studio A.
The fish dinner buffet is $17.95 per person and is served from 5–8:30 p.m. with live entertainment beginning at 6:30 p.m. La Peña at Café el Sol is sponsored by Miller Coors.
Past performances have included groups such as:
Jose Conde of Ola Fresca in a special solo, unplugged performance
4 Quinto - Caribbean
Experiencia Bohemia - Latin Jazz
Bahia - Caribbean, South American, Latin and Jazz