Individual and Group Activities
The staff at the Senior Center encourages participants to engage in both individual and group activities. Participants enjoy a variety of activities that promote interaction and creativity.
Some activities include:
Shopping trips
Entertainment
Exercise classes
Computer games
Table games
Pool
Crafts

Music & Dance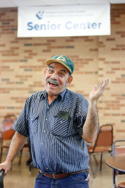 The UCC Senior Center values music as an opportunity for its participants to express themselves creatively as well as enjoy the musical talents of others. Outside performers are invited to the Senior Center and participants are encouraged to join in.
Dance is another opportunity for participants to enjoy themselves while encouraging an active lifestyle. Similarly, exercise classes and pool encourage activity and participation. Crafts, whether done individually or in a group, provide socialization and creativity for the seniors.

Arts & Crafts
At the UCC Senior Center, participants are provided with opportunities to develop new talents and abilities. One way we encourage this exciting experience is through arts and crafts. These opportunities allow participants to learn new skills and express themselves creatively. The seniors at the Senior Center enjoy a variety of arts and crafts, such as:
Sewing
Knitting
Woodworking
Painting

Table Games
Table games are not only an excellent source of entertainment, but they also encourage interaction among participants. Senior Center participants enjoy socializing by playing a variety of table games. Some of their favorites include:
Dominos
Bingo
Puzzles
Cards

Nutritious Meals
The UCC Senior Center provides participants with a balanced and multicultural meal seven days a week at 12 p.m. This service is available to Milwaukee County residents who are 60 years of age and older.
The UCC Senior Center is a meal site of the Milwaukee County Department on Aging's Nutrition Program. A donation of $3 per meal is encouraged from those who can afford it. The menu includes Hispanic meals several days a week.
Classes and information on nutrition and health are offered (in Spanish).
As a supplementary service, the UCC Senior Center is a monthly distribution site for food stock boxes from the Milwaukee Hunger Task Force.
For more information, please contact Program Director, Ana Castaneda, by phone at (414) 384-3100, ext. 2840, or by email Ana.