Youth Volunteer Corps 
The Youth Volunteer Corps (YVC) is an elite group of high school students that are hand selected to lead and mentor 1st - 8th grade students in enrichment activities in our UCC Summer Recreation Program. The UCC Summer Recreational Program offers summer activities including sports, art, games, as well as field trips to the museum, lakefront, local parks and swimming pools!

Benefits of Participating in Youth Volunteer Corps
In addition to Summer recreational responsibilities, YVC members are given workshops in the following areas:
Career & College Readiness (resume building, ACT Prep, writing college essays, college tours, etc...)
Character and Leadership Development (soft skill communication, team building, etc...)
Financial Literacy (budgeting, personal banking, college financing resources, etc...)
In appreciation for, and recognition of the significant contributions of YVC members to the UCC Family, the Pre-College Department will provide free transportation and discounted tickets to a fun-filled day at Six Flags!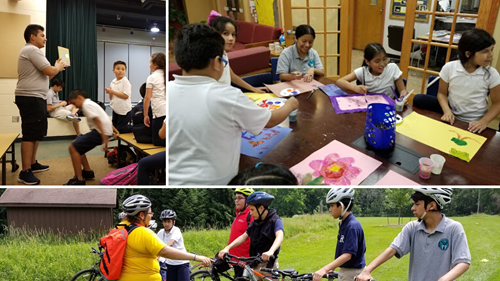 BENEFITS:
Job Experience - A great way to get work experience for you to land your first job
Scholarship - Earn 100 volunteer hours to enhance future scholarship and college applications
Leadership and Character Development - Gain leadership skills through our workshops
Networking - YVC is a great opportunity to make new friends and find a college mentor
Fun - Enjoy the summer through our included field trips and activities
WHO QUALIFIES:
Bruce Guadalupe & Acosta Middle School Alumni entering grades 9-12
Non-Alumni entering grades 11-12
FAQ's

Click HERE for frequently asked questions regarding the application process.